Peristaltic Pump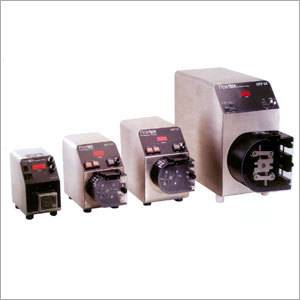 Peristaltic Pump
Price And Quantity
33000 INR

33000.00 - 200000.00 INR
Product Specifications
Product Description
Peristaltic Pump
With the support and dedication of our skilled workforce, we have been able to present an impeccable quality Peristaltic Pump. Made up of high-end quality components, these pumps are suitable for shear sensitive, aggressive fluid and viscous fluid. These pumps are specially designed by our skilled manpower for scientific applications. Owing to its features like easy installation, robust construction and high accuracy, these pumps can easily handle the toughest fluid transfer work. Moreover, clients can buy Peristaltic Pump from us at market leading prices.
The Peristaltic Pumps are specially intended for exploratory applications where exactness and adaptability go as an inseparable unit. Our Peristaltic Pumps have some best in class highlights and can be worked in both headings specifically for administer or suction, at rotor rates of up to 340 rpm. Everest Peristaltic pumps, are known for their accuracy configuration and incomprehensible capacities. The peristaltic pump models are delegated per stream rate prerequisites and the application usefulness necessities. Genentech's per stream peristaltic pumps will offer you simply the right pump for your application at the best cost.

Advantages of peristaltic Pumping

Contrasted with projection pumps, apparatus pumps, cylinder pumps & ever other kind of a pump, these are the benefit of FLOWTECH pumps.
No defilement of liquid.
The main wetable piece of the pump is the tubing, which is sterile and can be autoclaved.
Self preparing, dry running.
No valves, seal and organs.
Programmed check valve activity counteract reverse i.e. positive Displacement.
For all intents and purposes no upkeep or down time.

Where are peristaltic pumps utilized?

There are a large number of procedures where affirming the liquid to a tube, and that's it, are perfect. As opposed to stripping and cleaning the pump, simply fit another pump tube which takes just minutes, or even seconds. A sterile tube makes a sterile pump. Particularly for filtration, division, inspecting, splash covering, sustenance preparing, refreshment apportioning, inks, shades and photographic arrangements.
The Pump head outline encourages simple stacking and evacuation of the tubing. The proficiency of the configuration is shared between the spring stacked track and bearing stacked delrin/S.S. 304 rollers which together for all intents and purposes take out grating affected tube wear.

Kind of Peristaltic Pumps:

Manual & Auto Control Variable Speed Pumps
Programmable Dispensing and Filling Pump.
OEM Fix Flowrate Pump.
Manual & Auto Control Variable Speed Pumps
The Pumps offer wide flow range with simple to peruse computerized Display and Full included remote control ability.
Trade Information
3 Days

Corrugated Box Packaging